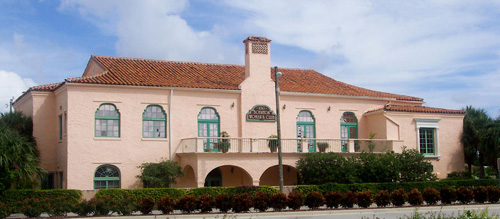 The Boynton Beach Woman's Club
1010 S. Federal Hwy.
Boynton Beach Fl 33435
There is parking on the property, across the street and alongside Federal Highway.
MAP TO COME
That's Downtown East Boynton Beach Beach just North of Woolbright Road and South of Boynton Beach Blvd.
The Boynton Woman's Club building was designed by famed architect, Addison Mizner and was built 1925-1926 for $50,000. It housed the community's library until 1961 and continues to serve as a meeting place for social and service groups. The Boynton Woman's Club was organized and is operated exclusively for charitable and educational purposes. The Club is a community service organization and each member is expected to be a working member serving the organization and community.